Business Intelligence/Data Analytics
Businesses and organizations are facing increasing amounts of data. The speed and volume of data is continuously multiplied. Think about the footprint left behind by most people. The searches performed, pages visited, products viewed, queries made – each of these actions leave data that can bring valuable information to your organization.
When the use of Federated databases was the norm, master data management and data governance played a much smaller role in analytics. Now, these disciplines are becoming all the more important. Utilities are collecting Gigabytes of data on a daily basis, but frequently lack the systems needed to analyze this data. They have neither the experience nor expertise in house to implement tools to derive the desired business intelligence. This amount of data collected by Utilities can make Data Analytics an overwhelming task and present significant QA challenges as well. However, the undiscovered potential and usefulness of the data stored in these databases is equally significant.
Our Approach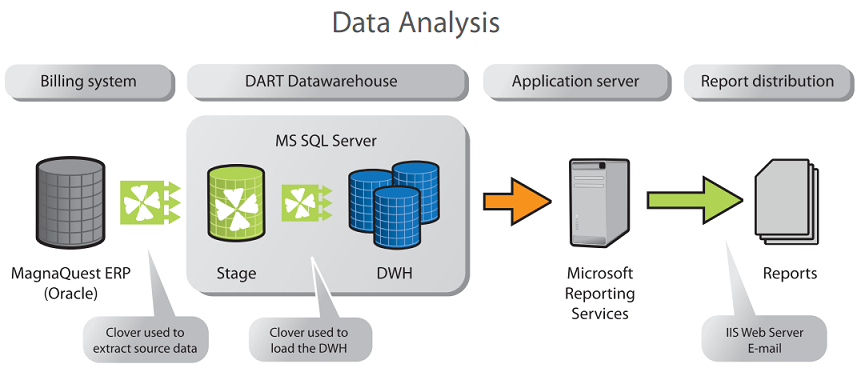 easySERVICE's approach to data analytics and business intelligence encompasses many different layers of technology. We have capabilities to provide solutions at each layer, including:
Infrastructure – Hardware, Operating Systems, Network, Storage, and Peripherals
Applications – Databases and COTS Reporting tools
The Business Intelligence Layer: Data Warehousing, Data Marts, ETL, Dimension Tables and Business Rules
The Content Layer: Portals, Reports, Dashboards and Analytics, Predictive Analysis
We help our clients address both the technical and process dimensions of improving information usage across the enterprise. With these improvements, organizations can make better decisions, enhance effectiveness and improve controls.
easySERVICE helps you analyze, present and deliver information to business users, thus making them more efficient and better able to meet a wide range of objectives. easySERVICE also continues to build and enhance your data solution. We employ high level data scientists, programmers, data analysts and data architects. We develop each layer of the solution based on our customer's specifics needs.